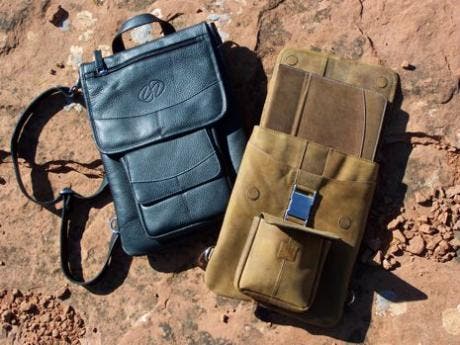 We all love a good accessory bag, something that fuses style and functionality in a way that is comfortable to wear and practical, all at the same time.
With that in mind, I'd like to introduce to you, a company called MacCase. MacCase are the manufacturers of an excellent line of leather carry bags that would suit both the modern, technologically savvy traveler, as easily as the fashion-forward cowgirl/boy type. With their sharp looking leather exteriors the MacCase line of leather iDevice bags give a decidedly modern twist to a classically elegant carryall.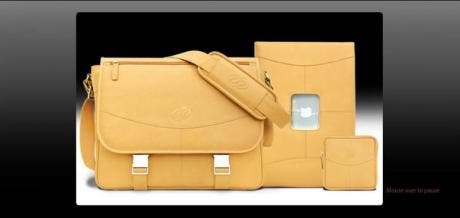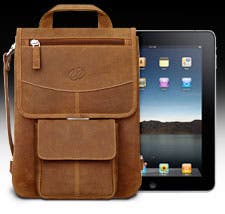 The MacCase Flight Jacket is a premium bag, specifically and perfectly designed for the iPad family. The Flight Jacket is available in two leather options: a finished and textured black leather, or a natural, vintage brown. The Flight Jacket's leather exterior is accentuated with very low profile, sleek metal clasps, and a fully detachable small front pouch. In fact, I have to say, the Flight Jacket is far roomier than its trim lines would have you predict. The fact of the matter is that the Flight Jacket for the iPad has all kinds of extra storage space, with a total of 5 separate storage compartments: the large one for your iPad, two sleeves, one in front and one behind the iPad's pocket, a zippered pouch built into the front cover flap and a fully detachable handbag on the very front. Altogether making for a considerable amount of storage space for such a compact bag.
I know Velcro is popular in the word of iOS accessories and bags, though I'm not a huge fan of it, due to the way it ages and collect debris. That said, I'm glad that the minimalistic use of Velcro in select, discreet locations on the brown leather Flight Jacket goes virtually unnoticeable when the bag is closed. On the black leather Flight Jackets, Velcro is even replaced in some points with magnetic closures.
It is with a minimum of Velcro and a low profile metal buckle that the front mini-pouch attaches to the main body of the Flight Jacket. This little pocket works great for carrying little things, like charging cables, keys etc. and couldn't be easier to get on or off with a secure buckle and Velcro system of attachment.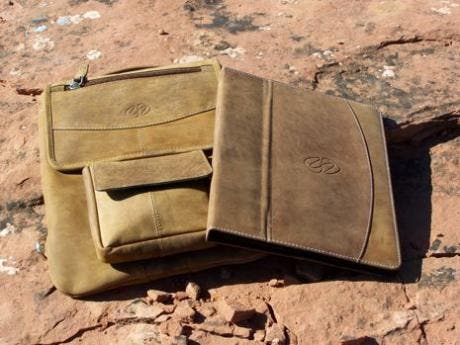 Inside, the Flight Jacket is lined with a plush and shock absorbent microfiber that will even polish your screen if you happen to have it exposed. If you have a heavy-duty iPad case like the Lifeproof or Otterbox, your iPad won't fit into the designated iPad Flight Jacket. In which case, I'd suggest looking at the matching 11 inch "laptop" model which will fit the encased iPad perfectly. On the other hand, if you use a slim-profile folio case, (like the matching beauty pictured above) your iPad will slide right into the iPad Flight Jacket with no problem. And what's more, with the introduction of the iPad mini, you would of course have even more carry space in the iPad Flight Jacket than when using the larger iPad.
The stitching on each bag is precise and this well built shoulder bag looks fit to last for many years of good use. The MacCase logo and name are branded into the hid as is the name of the designer Michael Santoro. The MacCase Flight Jacket wouldn't look out of place in a fancy boutique or high-end retail outlet, and would make a perfect accessory for anyone with a sense of understated high style and fashion. The leather lends to an element of ruggedness naturalness, and the overall design has an urban contemporary elegance to it. The Flight Jacket is designed to keep your iPad safe and secure while also adding flair to even the most casual outfit, without looking out of place in a more formal setting. I'd recommend the Flight Jacket for a wide range of people, from board members and executives to students and professionals, including doctors, teachers, medical staff or attorneys. The Flight Jacket is definitely something you will wear proudly!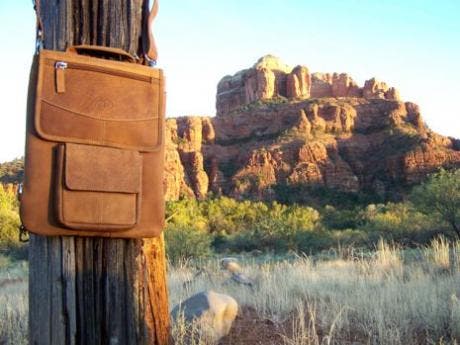 The 11 inch Flight Jacket is available HERE, for $190.00 , while the slightly smaller Flight Jacket designated for the iPad is available HERE, also for $190.00. If I was recommending one over the other, I would definitely suggest going with the slightly larger, 11 inch Flight Jacket, seeing as how it's only a little bit bigger (maybe an inch wider and and inch and a half taller) than the iPad specific version which allows a bit more flexibility as to what else can easily be carried (light-jacket, bottle of water, notepad and books for instance) and, the price is the same.
As always, thank you for reading, and stay tuned for more reviews and roundups of great accessories and apps as the holiday season kicks into gear!